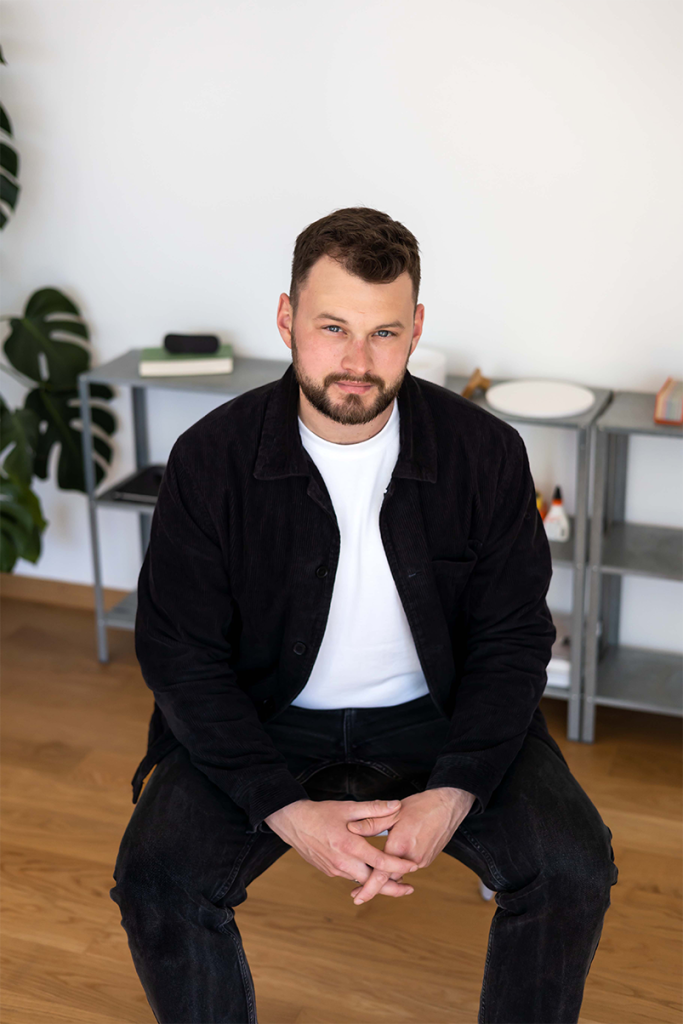 Robin Scholtysik ist 1991 in Düsseldorf geboren. Nach erster Arbeitserfahrung als Schreiner studierte er an der Akademie für Gestaltung in Münster. 2017 schloss er das Studium in Kombination mit der Tischler-Meisterschule, erfolgreich als "Meister+Designer" ab. Während seiner Studienzeit konzentrierte er sich auf die Gestaltung von Möbeln und entwickelte seine Leidenschaft für das Experimentieren mit Materialien und deren Fertigungsprozessen. Seine aktuellen Arbeitserfahrungen umfassen die Bereiche des Möbeldesign, der Innenarchitektur sowie der Markeninszenierung und hat an Projekten für Kunden wie: Jägermeister, OBI, REWE & Telekom mitgewirkt.
_______________________________________
Robin Scholtysik was born 1991 in Düsseldorf. After his first work experience as a carpenter, he studied at the Academy of Design and in parallel at the master carpenter's school in Münster, where graduated in 2017 as a designer and master in carpentry. During his design studies he focused on the field of furniture and developed his passion for experimenting with materials and different manufacturing processes. His current work experience includes the fields of furniture design, interior design and brand architectur.
Foto: Jana Maria Fotografie
"My designs are based on the daily life and to the needs of users. Inspiration comes from life itself – even small observations and human gestures can give impulses for something new. Especially the graphic and pure aesthetics, which is influenced by the beauty of the materials, are recurring themes of my work."

RECOGNITIONS / PUBLICATIONS
German Design Award 2020 Newcomer, Nominee.
Manufactum Staatspreis NRW 2019, Nominee
Schöner Wohnen shows the Eshaku Hook in the June 2019 issue as a practical corridor guard.
Interior Design featured the Eshaku Hook in their special "Spring Market" May issue 2018.
AW / Architektur und Wohnen appointed me as a A&W-Designtalent in their 02/2017 issue.
Best development price by Academy of Design and Crafts Münster for the Squares Secretary project.
EXHIBITIONS
ambiente 2023, Frankfurt Germany with Oru Sidetable
Maison & Objet 2023, Paris France with Oru Sidetable
ambiente 2020, Frankfurt Germany with Eshaku Hook
makk Museum "Manufactum Staatspreis NRW 2019″, Cologne Germany with Tulip Table
imm Cologne 2019, Cologne Germany with Eshaku Hook
Ventura Future 2018, Milan Italy with Serveur Mirror & Eshaku Hook
imm Cologne 2018, Cologne Germany with Eshaku Hook
Master Cabinetmaker Exhibition 2017, Münster Germany with Tulip Table
Gestalter im Handwerk 2017, Münster Germany (graduate exhibition)
imm Cologne 2017, Cologne Germany with Lody Mirror

COLLABORATION

WORK EXPERIENCE
FRAMEWORK GmbH, Cologne
Brand Architecture, Interior & Product- Design
March. 2020 – current
www.framework.tv

donnerblitz design GmbH & Co. KG, Münster
Interior & Product- Design
Nov. 2017 – Feb. 2020
www.donnerblitz-design.de

Joisten & Böhm Schreinerei GmbH, Düsseldorf
Möbel & Bauschreiner
Aug. 2010 -Jul. 2014
www.joisten-boehm.de